Registered user
Posts: 438
Joined: 28 May 2017, 05:53
Byond ID: Megamisto
it is from a game called formation z
You do not have the required permissions to view the files attached to this post.
---
Registered user
Posts: 1912
Joined: 12 Jan 2015, 10:51
Location: Spider Lab
............
I see grammar mistakes
---
Registered user
Posts: 438
Joined: 28 May 2017, 05:53
Byond ID: Megamisto
yes, that is why it is humorous
---
Registered user
Posts: 420
Joined: 23 Jul 2016, 11:49
Location: Xenohive
ye do itut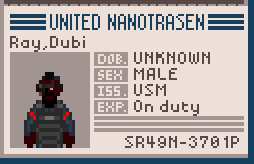 kiss the six
---
Registered user
Posts: 281
Joined: 30 Apr 2015, 14:48
Byond ID: Pette
---
Mentor

Posts: 340
Joined: 11 Jun 2017, 02:30
Location: Boogie Wonderland
Byond ID: WinterClould
Steam: 『WinterClould』
yee boi du it no w plz
Chen "DiscoKing" Westinton
Disco Never Dies!
Muh Dossier, it's good. Trust me. Read it, please. I beg you.
Secondary Objective: Stay Safe, Stick Together, Kick the ass of anything that might need an ass kicking. If you find any booze bring it up to CIC for me please.
Not everyone who lost their life on Space Nam' died there. Not everyone who came home from Space Nam' ever left there.
---
Registered user
Posts: 89
Joined: 07 Apr 2017, 18:59
Byond ID: Tactical 445
ye we won tmie to kill more alien
Tactical445
---
Mentor

Posts: 693
Joined: 29 May 2016, 02:06
Location: Texas
Byond ID: kneez
Ryan 'Firebug' Steelberg
Horace Wallenber
---
Moderator

Posts: 35
Joined: 22 Jan 2017, 21:33
Location: Nostromo
Byond ID: Bibiex
When marines win the round, the infestation does not end, it's only the beginning
The funniest thing about this particular text is that by the time you realise it doesn't say anything it's too late to stop reading it
---