Registered user
Posts: 328
Joined: 28 May 2017, 05:53
Byond ID: Megamisto


it is from a game called formation z
You do not have the required permissions to view the files attached to this post.
Registered user
Posts: 1853
Joined: 12 Jan 2015, 10:51
Location: Spider Lab
............
I see grammar mistakes
Registered user
Posts: 328
Joined: 28 May 2017, 05:53
Byond ID: Megamisto
yes, that is why it is humorous
Registered user
Posts: 315
Joined: 23 Jul 2016, 11:49
Location: Xenohive
ye do itut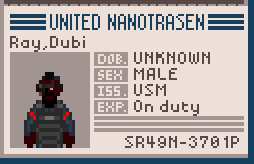 kiss the six
Registered user
Posts: 149
Joined: 30 Apr 2015, 14:48
Byond ID: Pette
I liek it.
"I have low patience for incompetence."
Registered user
Posts: 172
Joined: 11 Jun 2017, 02:30
Location: The Dance Floor
Byond ID: WinterClould
Steam: 『WinterClould』
yee boi du it no w plz
Secondary Objective: Stay Safe, Stick Together, Kick the ass of anything that might need an ass kicking. If you find any survivors secure them on your Dropship and radio ahead. Also if you find any booze bring it up to CIC for me please.
Always just one week from retiring.
Chen "DiscoKing" Westinton
---
Who is online
Users browsing this forum: Zilenan91 and 2 guests