Registered user
Posts: 2038
Joined: 20 Aug 2016, 15:52
Byond ID: Krab_Spider
[quote="TheMusician321"][/quote]

ED YOU'RE ALIVE!
You will never be as bad as the baldie who picked up a
tactical shotgun
while a hunter was pouncing on top of a CMO for 4 seconds, with his only response being to pace around before being decap'd by said hunter. You are not Brett Kimple, and you never will be. You are not the reason why I regular MP.
I am John "Buckshot" Rhodes, the Tactical Snowflake Hunter
---
Mentor

Posts: 449
Joined: 25 Aug 2016, 01:39
Byond ID: TheMusician321
Steam: 50ShadesOfIcedTea
Crab_Spider wrote:
ED YOU'RE ALIVE!
yep. just got back from exam month.



Ed 'Wafflecone' Martin bites the Mature Hunter (251)!
I play as Ed 'Waffles' Martin or his sister, Amaryllis 'Pancakes' Martin.
Never Forget, Dust Raider. 10/15/17.
---
Registered user
Posts: 446
Joined: 28 May 2017, 05:53
Byond ID: Megamisto
ancient spitter who just helped queen capture/kill about 20 marines on almayer when most other xenos had died off deserves big praise
---
Registered user
Posts: 4
Joined: 09 Aug 2017, 14:41
Byond ID: Tokochiro
SHOUTS OUT TO THE 3 RAVAGERS 1 CRUSHER SQUAD THAT TOOK LIKE, FOURTY WHOLE KNEES.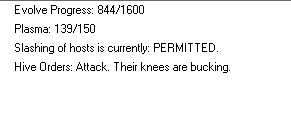 I was Ravager (45), who were the others?
---