Registered user
Posts: 185
Joined: 17 Jun 2016, 10:23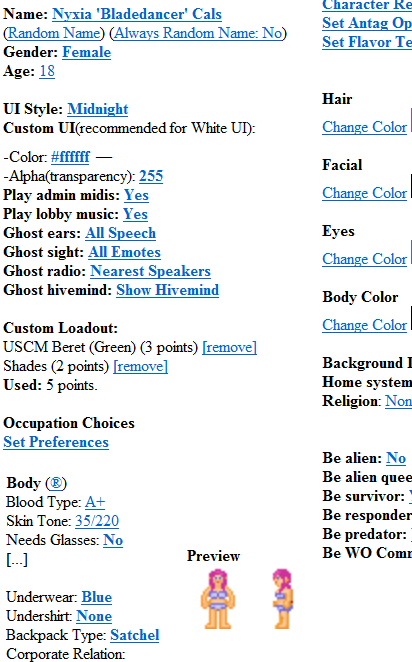 Due to recent events I have brought back my original Nickname in order to preserve my way.
LOOC Nyxia 'Fifty' Cals "I swear to god if I haven't broken a bone to this moment. I need to head back to get my replacement Titanium plates."
LOOC John '???' Baker? "Better get running"

Sometimes, Snowflakes are not needed, but this one keeps pushing the fact.
---
Registered user
Posts: 1158
Joined: 06 Jun 2016, 09:18
Location: US of A
Byond ID: Casany
Steam: Casany
Fukkin WEEB
He killed me with a SADAR and it was bullshit. We should ban him for ERP because of how VIOLENTLY HE FUCKED ME' - Biolock, Saturday 15 October 2016

"Sometimes you need to stop and enjoy the little things in life, for one day you'll look back and realize they were big things"

Confirmed Shitler by EMT_321
---
Registered user
Posts: 336
Joined: 19 Apr 2016, 00:37
Location: The Jungle
I cant wait for the admins to remove dyed hair colors.
---
Registered user
Posts: 408
Joined: 19 Mar 2016, 19:14
ye there should only be options to choose from black/blonde/redhead/poop/white colors
---
Moderator

Posts: 117
Joined: 07 Sep 2017, 03:43
Byond ID: Sirlordington
You forgot grey.
I used to play Luke Compton.
---
Registered user
Posts: 2040
Joined: 20 Aug 2016, 15:52
Byond ID: Krab_Spider
Sometimes I just want to push for removing nicknames and just ban dyed hair.
You will never be as bad as the baldie who picked up a
tactical shotgun
while a hunter was pouncing on top of a CMO for 4 seconds, with his only response being to pace around before being decap'd by said hunter. You are not Brett Kimple, and you never will be. You are not the reason why I regular MP.
I am John "Buckshot" Rhodes, the Tactical Snowflake Hunter
---