Bug Description:
Alright so previously I was totally able to burn like 30-40 bodies of marines one round but here the incinerator gets stuck (locked) after the first "incineration".
Steps to reproduce:
1. Get a bald MP's dead body to the incinerator
2. Move the body on an incinerator's tray tile
3. Move the body bag away.
4. Close the tray
5. Double click the incinerator button
6. Find yourself unable to get the body back and the tray's still open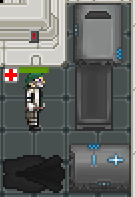 P.S. Nothing's under the tray and clicking on the tray itself doesn't do anything
All the other logs are the same it's locked text, nothing relevant
I have also realised that this kind of thing happens with the EVERY morgue tray, look at this!
(just double-click on the morgue tray, I guess that's exactly what happened to the crematorium)
https://i.gyazo.com/e33c200e15efc856fc8 ... 5647ac.mp4